Digital solutions :

Info Sécheresse (Drought Info), a free service helping you make decisions and raise awareness. Thus, providing real-time access to detailed data at national and regional levels
Because droughts are bound to become more frequent, more severe and longer, and because the challenge of climate change requires the generalization of sustainable practices for the management and use of water resources, SAUR group and Imageau teams have developed the Info Sécheresse platform. Using daily analysis of more than 30,000 drought indicators, Info Sécheresse required more than 6,000 hours of computer development and environmental study.
Free access to drought indicators
Free platform (mandatory creation of an EMI account at (https://emi.imageau.eu/))
30,000 drought indicators updated daily
50 years of raw data
Make your decisions easier
An intuitive platform to facilitate understanding and decision-making for all stakeholders concerned by drought
A multifaceted approach combining meteorological, hydrological and hydrogeological data
Share clear and visual information
Graphs and maps to facilitate information sharing
Import of summary maps in PNG format
A maximum of data in one app
An intuitive platform that allows everyone to easily visualise open access government Data related to drought!
Water table and deep water
70 years of rainfall and daily temperature data, 1,053 weather stations monitored, updated daily
More than 30 years of data, 1,480 flow measurement stations monitored, updated daily
9 years of data, 3,017 observation stations monitored, updated monthly
15 years of data, 4,000 piezometers monitored, updated regularly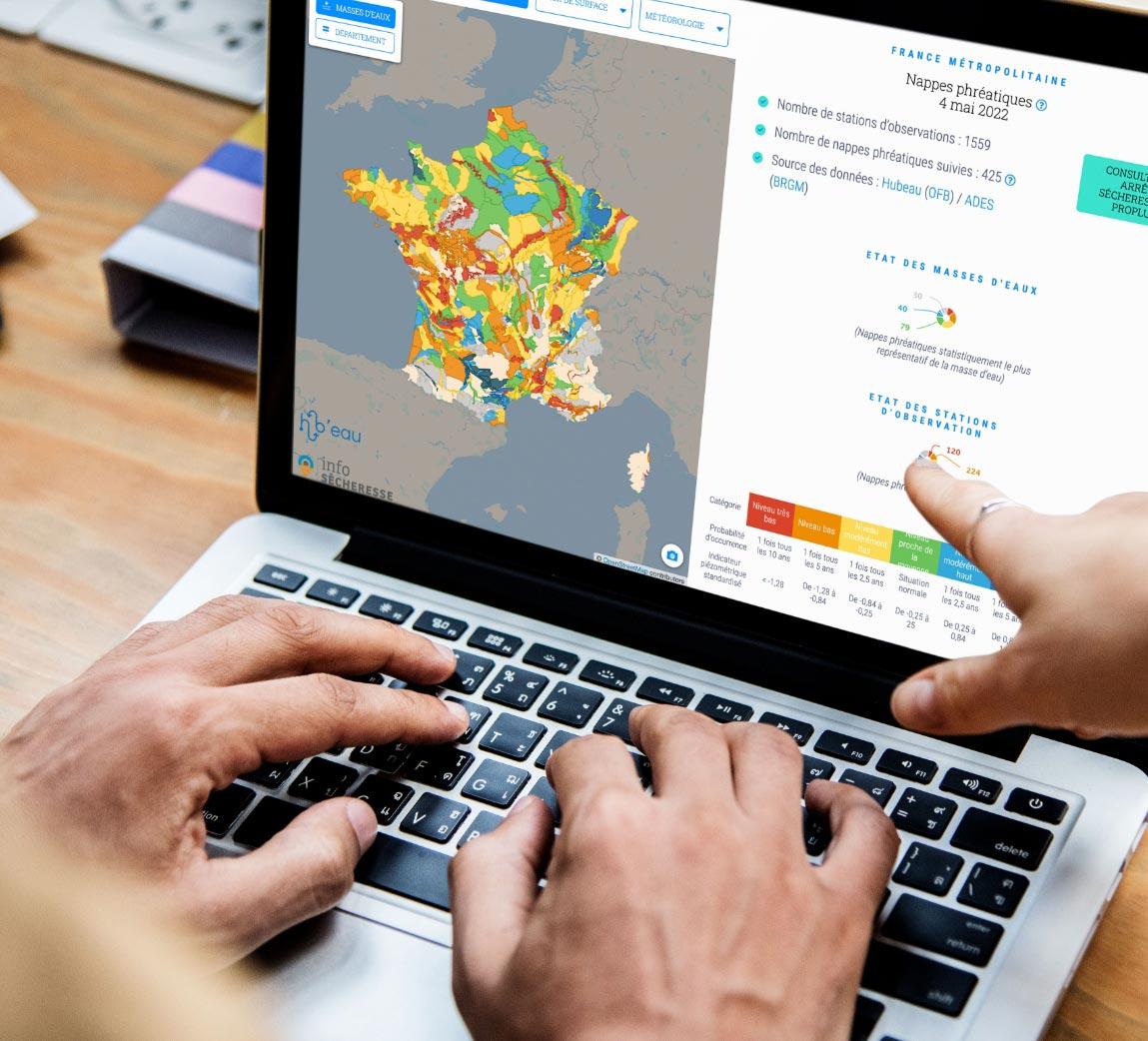 Validation/filters of raw data
The app detects possible metrology malfunctions and filters out erroneous or missing data.
Drought orders in real-time
Instantly visualise the current alert zones in relation to your region and your catchments, or for the whole of France. The update is daily from the government website Propluvia. Local areas concerned, duration of validity, restrictions, history: access the detailed characteristics of each local government drought order.
Multiple data analysis tools
Maps, pre-constructed graphs, bar graphs, data export, etc. to facilitate analysis and decision-making.
Notifications (Web/Email)
You are automatically alerted of any abnormal situation: sensor failure, change in status of an indicator, malfunctions, etc.
Documentary management and management of interventions
EMI Vigilance allows you to centralise your technical documents and to trace your interventions in the field.
Daily calculation of drought indicators
The app interprets your raw data and transforms them into decision support indicators, according to calculation rules derived from international standards.
Drought report
You are automatically alerted to any abnormal situation: faulty sensor, change of status of an indicator, malfunction, or new drought order in your region.
To be continuously informed on the drought risk in your region
Water stakeholders and the general public
Open access Government databases
Meteorology : ERA 5 data from ECMWF, European Centre for Medium-Range Weather Forecasts.
Hydrology : data from Eaufrance and BanqueHydro for historical data, Hubeau Hydrométrie for daily data, and Onde for low water levels in streams.
Hydrogeology : data from Eaufrance, Hubeau piezometry for historical and daily data.
A service funded by the Saur Group via its subsidiary IMAGEAU
INFO SÉCHERESSE (Drought Info) is a public utility app which is self-financed and made available free of charge by Imageau, a digital water specialist, to enable water stakeholders to manage drought conditions.
INFO SÉCHERESSE is not subsidised.
INFO SÉCHERESSE is based on the EMI app, which required more than 6,000 hours of computer development and environmental study.
INFO SÉCHERESSE is fully in line with the Saur group's mission: The defence of water. Defending water means guaranteeing that it is of good quality, safe, in sufficient quantity, for everyone, in the short and long term. By supporting the services developed by Imageau, Saur is expanding its range of digital solutions, dedicated to more detailed and shared knowledge of data related to water and the pressures on this resource to ensure that it remains accessible in sufficient quantity in all regions.