Digital Solutions :

EMI Exploitation : the digital solution dedicated to water professionals operating water catchments
It allows you to continuously monitor the potential risks of water supply disruption associated with your drinking water production facilities (impact of drought, loss of yield, maintenance issues, for example).
EMI Exploitation facilitates the reasoned use of the water resources, of your boreholes and the optimisation of their maintenance. It encourages and facilitates an unprecedented level of synergy between local authorities and operators.
Assess and manage the impact of a drought on your production site
Access to all your observation points, enriched with public data on water resources in your region
Calculate and display the drought risk at your site and qualify the potential impact on your production
Real-time alerts of evolving drought conditions
Automatic generation of personalised drought information bulletins for your region
Continuously monitor your water resources as part of your WSSMP
Daily overview of all natural risks related to your water supply

Continuous improvement and adaptation of your Water Supply System Management Plan
Adopt collaborative and transparent working methods
Create user profiles and assign access rights
Your data is accessible 24 hours a day from any connected device
Easy exchange with your monitoring and your GIS thanks to a dedicated API
Extend the lifespan and production capacity of your water catchments
Anticipate and decide on the optimal maintenance intervals, thanks to the continuous calculation of borehole performance

Through its monitoring and alert system, EMI Exploitation helps the operator to manage their operations in accordance with industry standards

Dashboards and summary reports on the operation and performance of your operations
Effortless browsing via an intuitive interface
Latest innovations in terms of web design

Intuitive and ergonomic interface

All the technical and regulatory information on your water catchments is available with a single click
All your data
on a single application
Centralise, visualise and analyse all the information you need for making decisions. Your environmental database can be created by Imageau or connected to EMI Exploitation if it is already in place.
OVERVIEW OF YOUR OBSERVATION STATIONS
VISUALISATION OF OPEN-ACCES GOVERNMENT DATA
Pumps, Boreholes, Wells, Springs, River intakes (flow rate, water level, volume, operating mode)
Piezometers, Limnimeters, Weather stations, River warning stations, Multi-parameter water quality sensor
Climate (precipitation and temperatures), River flow, National low water observatory, Groundwater level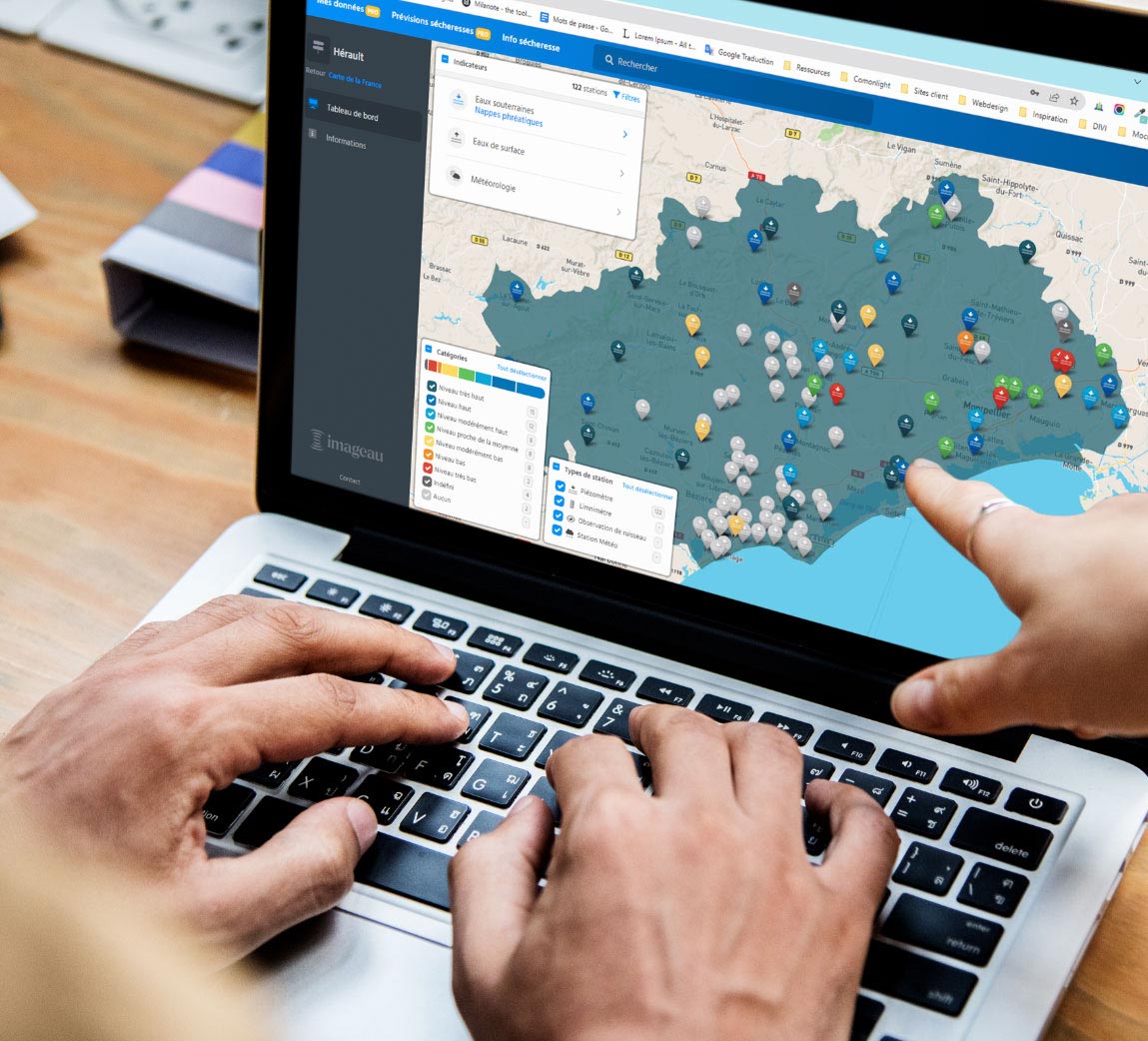 Daily drought forecast (groundwater, rivers, weather)
Based on the latest technologies in data science innovation, drought forecasting models are fed by your raw data and carry out forecasts for up to 90-day periods. Decision support indicators help you interpret these results.
Validation/filters of the raw data
Algorithms detect possible metrology malfunctions and filter out erroneous or missing data. Only controlled and reliable data is used in the application.
Real-time drought shutdowns
Instantly visualise the current alert zones specific to your region and your catchments, or for the whole of France. The update is daily from French Government website Propluvia. Local authority areas concerned, duration of validity, restrictions, history: access the detailed characteristics of all local drought orders.
Multiple data analysis tools
Maps, pre-constructed graphs, bar graphs, data export, etc. to facilitate analysis and decision-making.
Notifications (Web/Email)
You will automatically be alerted of any abnormal situation: faulty sensors, change in status of an indicator, malfunctions, or new drought orders in your region.
Documentary and intervention management
EMI Vigilance allows you to centralise your technical documents (public utility declaration, geological synthesis, camera inspection) and to trace your interventions in the field.
Daily calculation of drought indicators
The app interprets your raw data on a daily basis and transforms it into decision support indicators, according to calculation rules derived from international standards.
Automatic drought report
Automatic generation on demand of personalised drought information bulletins for your region. It facilitates the sharing of information with the Government bodies.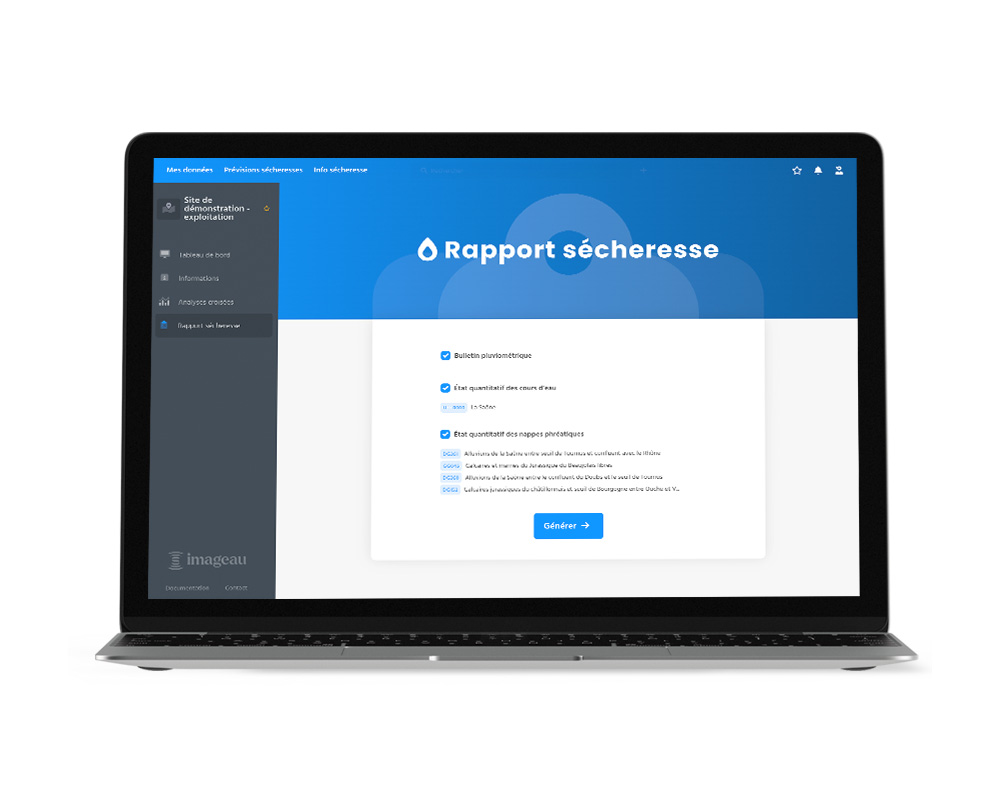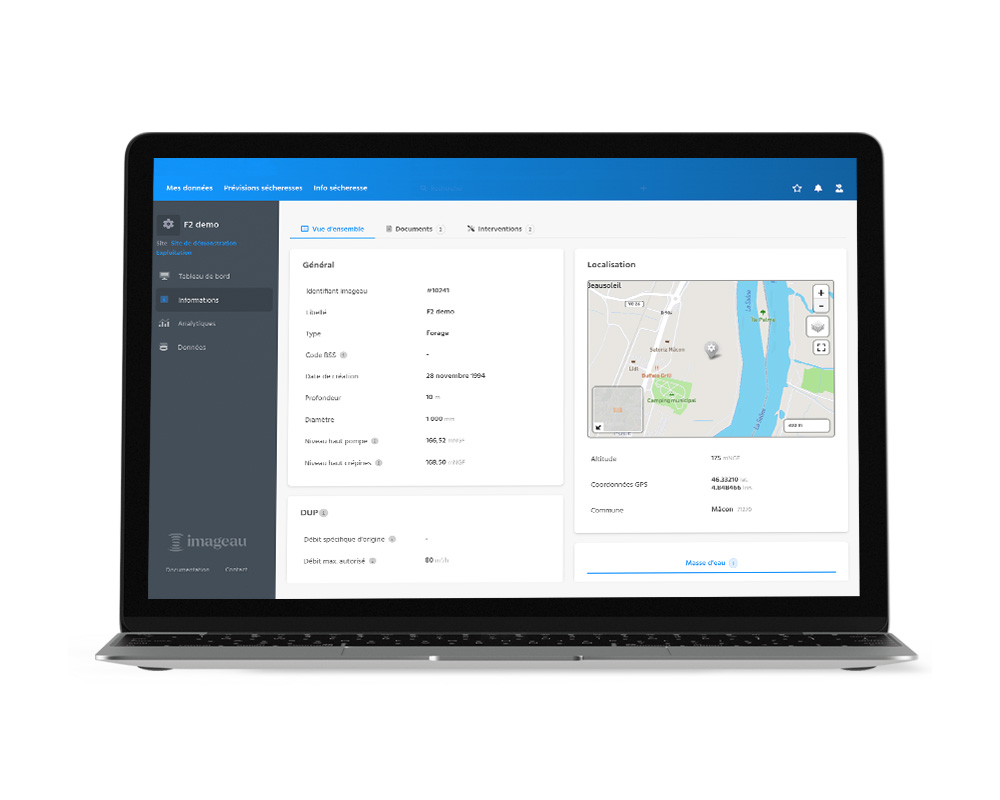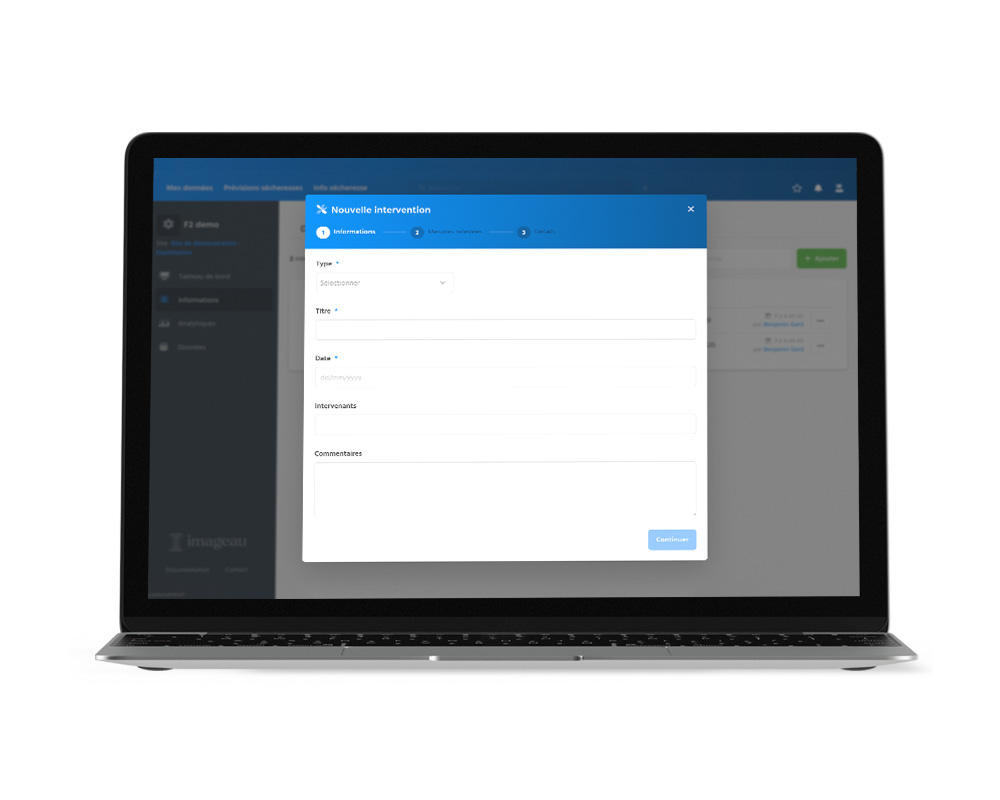 Management
of the maintenance of your stations.
Creation
of bar graphs using data from your stations.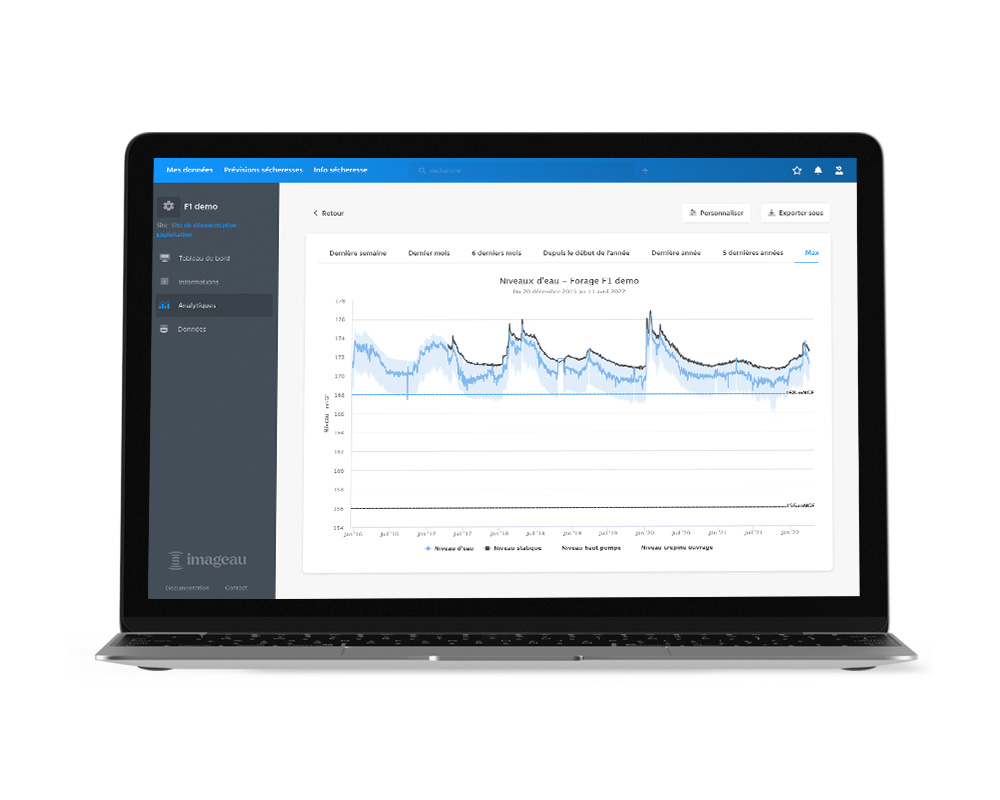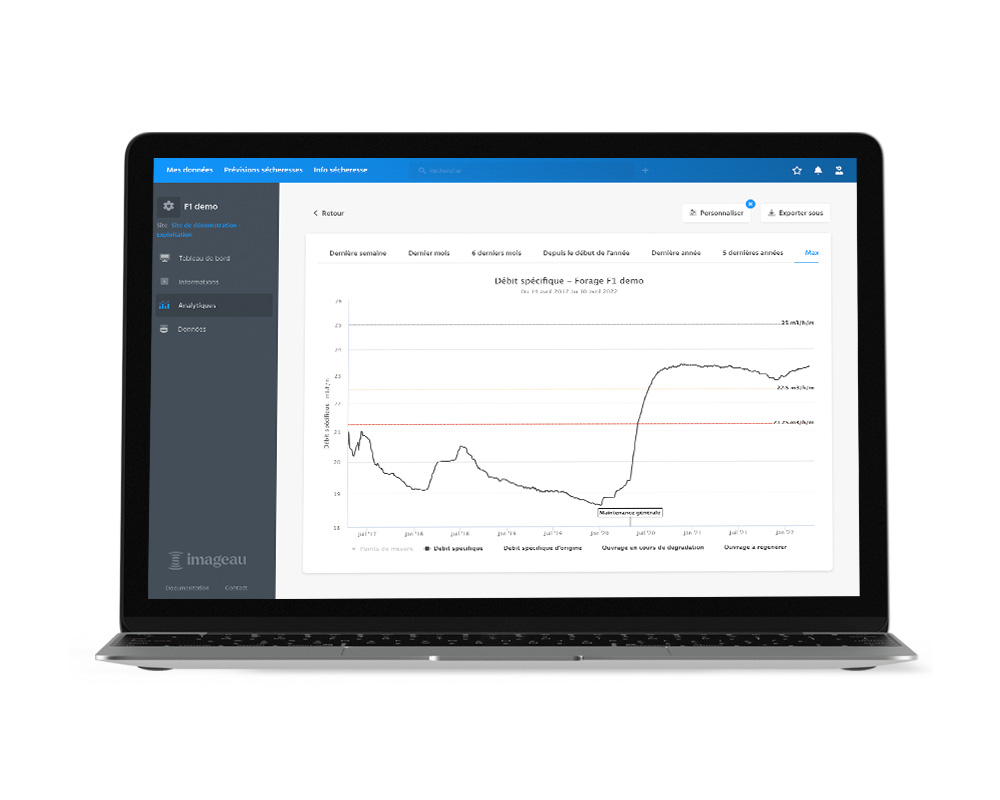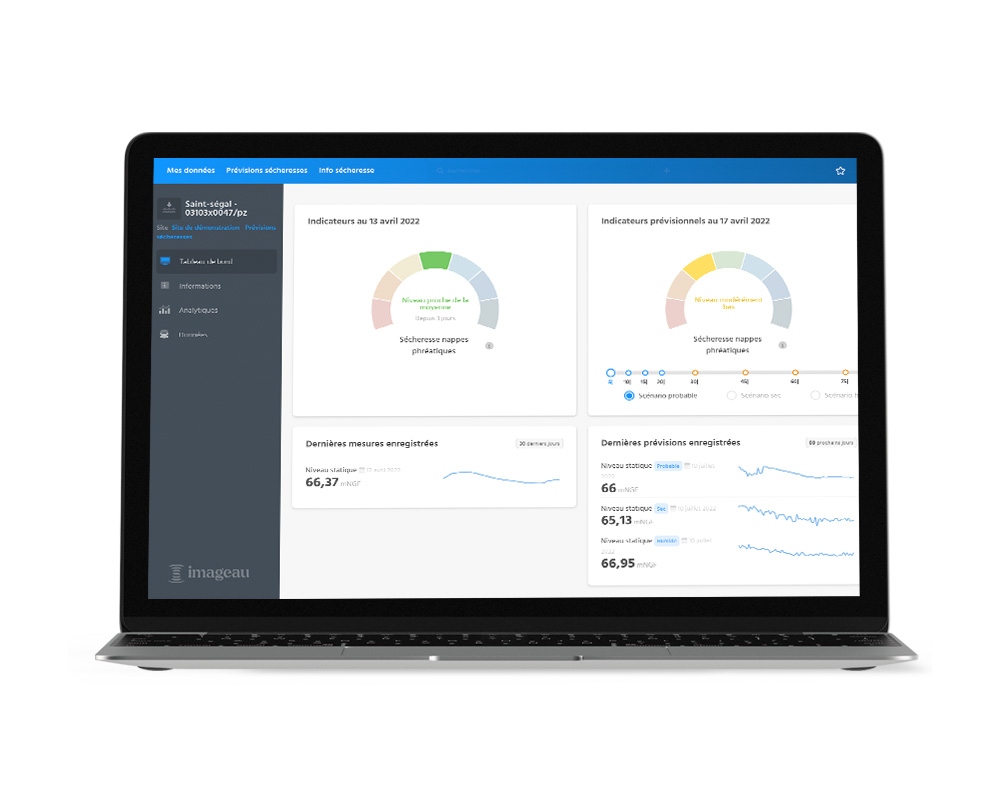 Borehole monitoring dashboard
First year hydrogeological support
During the first year's subscription, our hydrogeological experts draw up a resource safeguarding plan (RSP). This report presents solutions to be implemented in the short/medium/long term at your production facilities for sustainable and optimal operation..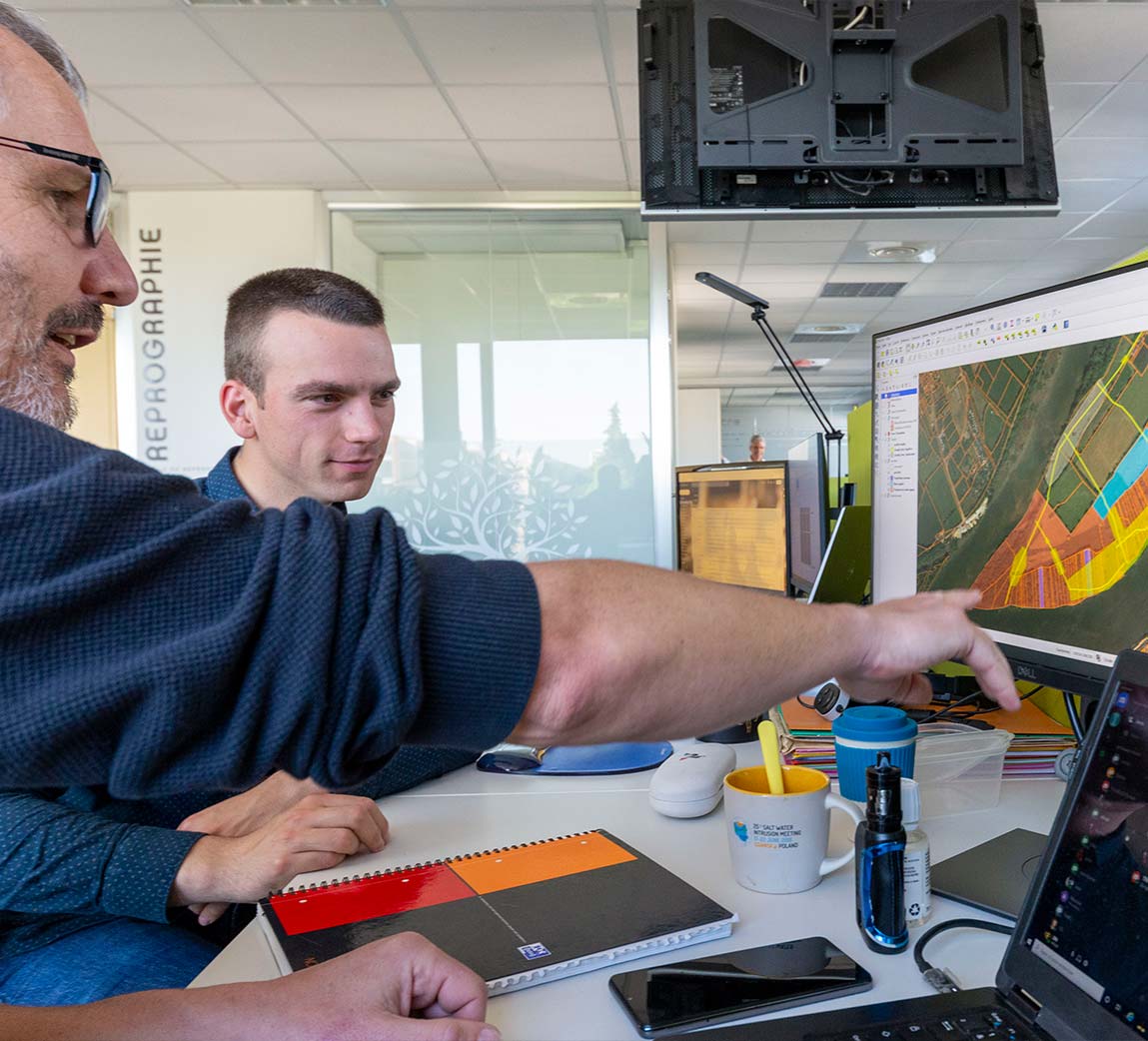 Managing your own water resource monitoring network and monitoring your catchments 
Water professionals dedicated to operational aspects
First year € 3,000 ex-VAT per catchment
Subsequent years € 1,200 ex-VAT per year and per catchment
Prices based on the assumption of one piezometer per body of water
The data entered on EMI applications remains strictly confidential, secure and hosted on servers in France.